HANK WILLIAMS - No More Darkness
27 + 1 Original-Songs von Hank Williams
Herausgegeben von Christos Davidopoulos & Hias Schaschko
Im Booklet ein langes Gedicht von Franz Dobler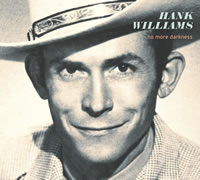 Auch wenn man bei Amazon derzeit 212 Treffer zum Stichwort "Hank Williams" erhält, ist doch "No More Darkness" zusammen mit der Tribute-CD "Hank Williams Revisited"
eine der besten Hank Williams-Veröffentlichungen auf dem Markt.
www.sound.de

Thank U very much!!!

Tracklist:
01. I Saw The Light
02. Calling You
03. Six More Miles (To The Graveyard)
04. Mind Your Own Business
05. Honky Tonk Blues
06. Lovesick Blues
07. Lost Highway
08. Lost On The River
09. Too Many Parties And Too Many Pals
10. I'm So Lonesome I Could Cry
11. I Just Don't Like This Kind Of Living
12. Long Gone Lonesome Blues
13. Why Don't You Love Me
14. Moanin' The Blues
15. Hey, Good Lookin'
16. I Can't Help It (If I'm Still In Love With You)
17. Cold, Cold Heart
18. Half As Much
19. Ramblin' Man
20. (I Heard That) Lonesome Whistle
21. You Win Again
22. Let's Turn Back The Years
23. Wedding Bells
24. Move It On Over
25. Jambalaya (On The Bayou)
26. Howlin' At The Moon
27. I'll Never Get Out Of This World Alive
+++++++++++++++++++++++++++++++++++++++++++++++++++++++++++++
HANK WILLIAMS revisited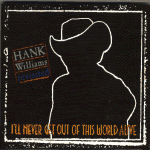 Damen & Herren, Frauleins, Ladies & Gentlemen !

A very fine Hank-Williams-Tribute-CD, compiled by CHRISTOS DAVIDOPOULOS & HIAS SCHASCHKO, has been recently published in Munich/Bavaria/Germany.

The interesting point about this CD is the fact, that Hanks songs are mainly covered not by country singers (except two), but by bands & singers from the genres of soul, folk, blues, rockabilly, reggae, zydeco & alternative rock.
"ILL NEVER GET OUT OF THIS WORLD ALIVE"
includes 23 tracks, 73 minutes of amazing music & comes in a digipack plus a booklet with 28 pages (german/english). Listen up!
The music-press here was pretty enthusiastic about it:
ROLLING STONE awarded four out of five possible stars.

MUSIC EXPRESS wrote: "Legendary ...this album is a monument!".

ZÜNDFUNK: "Album of the week"